This is president Kutchma.
In 1994 he came to power, as democrat, full of promises and bald headed.
Here is extract from my letter to president, that I wrote on behalf of my friends and neighbours on November 25, 2004.
MR.PRESIDENT,
WHEN YOU BECAME OUR PRESIDENT, WE BELIEVED YOU WERE A DEMOCRAT. THEN FOR A LONG TEN YEARS WE BEEN ONLY WATCHING YOU CHANGING SUITS, GROWING HAIR AND MAKING YOU RELATIVES A BILLIONERS. YOU DID NOTHING GOOD FOR A COUNTRY, YOU NEVER CARED ABOUT PEOPLE, YOU ONLY CARED ABOUT YOU OWN POCKETS.
NOW, WE FINALLY GOT A CHANCE TO RID OF YOU REGIME AND YOU REGIME STOLE OUR VOTES. NOTHING LAST FOREVER, SO IS OUR PATIENCE AND TODAY ALL COUNTRY ON THE STREETS. MR.PRESIDENT, WE GOT ENOUGH OF YOU AND ASK YOU TO LEAVE. IF YOU DON'T WANT TO LEAVE IN A PEACEFUL MANNER, THEN PEOPLE WILL PROVIDE YOU LEAVING IN A MANNER OF ROMANIAN PRESIDENT CHAUSHESKU. THEN WE AFRAID, YOU NEXT SUIT WILL BE A WOODEN ONE, WITH NO POCKETS FOR YOU TO CARRY ALL THAT YOU STOLE FROM US....
... the rest of the message contains untranslatable idioms and unprintable expressions.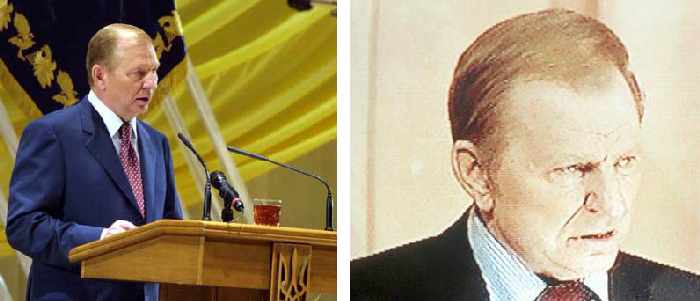 It is progovernmental candidate, a man of Kutchma. He has always been wanted by police. First time he was imprisoned for robbery, then for assault and battery... at the end of this record stands recent falsification of this election.
He was a governor in South-East Ukraine. Governors must have an academic degree. So somehow he got a full professor diploma. We call him "Proffesor" because even with the diploma he spells professor wrong.
He was our prime minister for last two years. I can imagine what "academics" did to the economy of a country.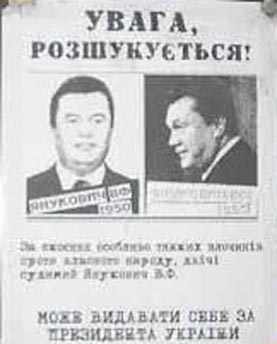 It is what they did to democratic candidate, poisoned him with dioxin.
This is face of democracy in Ukraine.